A city steeped in myths, tales, literary brilliance, and captivating temples, Kolkata is a testament to its rich cultural heritage. This magnificent metropolis is the birthplace of master storytellers like Satyajit Ray and Rabindranath Tagore.
Even in this age of rapid modernization and technological advances, one can find an enduring reverence for life, art, and divinity. Such devotion is no surprise in a city that passionately celebrates Durga Pujo with unwavering enthusiasm.
If the enigmatic charm of this historic city has always intrigued you, embark on your exploration by immersing yourself in the diverse museums of Kolkata. Here, you can delve into the intricate tapestry of its culture, history, and art. After learning about its culture, history, and art in detail, a visit to the famous historical places in Kolkata is also recommended.
However, if you also believe in the Hindu gods, set out on a journey to visit the famous temples in Kolkata because nothing will soothe your soul like a journey to the door of the lord himself.
Temples in Kolkata (List):
Ashutosh Chowdary Ave, Ballygunge
Metcalfe Lane, Central Kolkata
An enchanting and sacred edifice, the Birla Mandir in Kolkata, West Bengal, is a testament to your unwavering faith. Constructed by the industrialist Birla, this magnificent temple was a labor of love, taking 26 years to reach completion.
Opened to the public in 1996, it has consistently drawn crowds for its compelling allure. The temple's architecture is a masterpiece, adorned with intricate engravings that feature verses from the Bhagavad Gita.
Initially devoted to Lord Krishna and Radha, the temple has expanded to include statues of various other deities. When contemplating your first temple visit in Kolkata, your spiritual journey should commence here.
Location:

Ashutosh Chowdary Ave, Ballygunge

Timings:

5.30 am to 11.00 am and 4.30 pm to 9.00 pm
The list of Kolkata's revered temples is incomplete without mentioning the iconic Kalighat Temple. This sacred haven, dedicated to Goddess Kali, holds profound significance for the Bengali community, as they deeply honor all forms of Goddess Durga, including Kali, considered one of her avatars.
Year after year, countless devotees flock to this temple, making it a vital pilgrimage site. It also holds a unique position as one of the 51 Shaktipeeths scattered across the country. For those planning to embark on a journey to explore Kolkata's Kali Temples, we strongly recommend commencing your spiritual quest here. The temple houses a colossal idol of the goddess, intricately carved from black stone, featuring three eyes, multiple arms, and a prominent golden tongue. Witnessing this divine image is a source of immense joy for any devout follower of the goddess.
Location:

Anami Sangha, Kalighat

Timings:

5.00 am to 2.00 pm and 5.00 pm to 10.30 pm
Chinese Kali Mandir, Kolkata
After exploring the Famous Kolkata Kali Mandir, make sure not to overlook another captivating gem – the Chinese Kali Mandir. This temple stands as a unique testament to the idea that religion can serve as a unifying force rather than a divisive one.
Devoted to Lord Kali, this temple is administered by priests of Chinese descent. It's a sanctuary where predominantly Chinese worshippers congregate to pay their respects to the goddess. If you consider yourself a devoted follower, this place should undoubtedly find a spot on your must-visit list.
At this temple, the goddess is honored following Chinese rituals. One of the most intriguing aspects of the temple is that, on Saturday nights, it offers standard Chinese takeout as Prasad, adding an intriguing twist to your spiritual experience.
Location:

Tangra

Timings:

5 am to 2 pm; 5 pm to 10:30 pm
Dakshineswar Kali Temple, Kolkata
Located on the banks of the Hooghly River is the Dakshineswar Kali Temple, a revered and iconic place of worship. Erected in the early 19th century, this three-storied temple stands out with its nine spires, a departure from the typical Hindu temple architecture. Embracing the traditional Bengali style of Navratna, it is a visual marvel
The temple's origins are fascinating. Legend has it that after a divine appearance in a devotee's dream, Goddess Kali instructed Rani Rashmoni, a devout follower, to abandon plans for a Varanasi trip. Instead, Kolkata was designated as the site for the construction of a temple dedicated to her.
Location:

May Dibas Pally, Dakshineswar

Timings:

5 am to 8 pm
In Kolkata, the devotion to Goddess Kali is fervent, showcased vividly at Lake Kalibari. This temple honors the renowned Goddess, housing an idol of Goddess Karunamoyee, representing another facet of Kali's divine essence.
In 1949, the temple was founded by Mr. Haripada Chakraborty, a devoted follower of the Goddess. Seeking the blessings of this embodiment of justice and strength, one can visit this temple situated on Southern Avenue.
Location:

Southern Avenue

Timings:

6 am to 12:30 pm; 3:30 pm – 9 pm
Kolkata's Agni Mandir stands out among the temples in India for upholding Parsi traditions in its prayers and rituals. Dedicated to the revered Fire God, this temple holds significant importance in Hindu mythology, symbolizing the primary element sustaining life. Constructed in 1912, it embodies shared reverence for both Hindus and Parsis.
The temple, adorned in vivid vermilion red, houses a perpetually burning holy flame, symbolizing life's sustenance. While the inner sanctum isn't accessible to the public, the image of the sacred flame on the first floor attracts a considerable number of pilgrims and visitors. This flame represents the enduring vitality and spiritual significance attributed to fire in the Hindu tradition, serving as a focal point for worship and reflection.
Location:

Metcalfe Lane, Central Kolkata

Timings:

10 am to 8 pm
Located on the serene banks of the Hoogly River, you'll discover the renowned Dakshineswar Kali Temple, a masterpiece of the early 19th century that promises to leave you spellbound. Distinguished from other Hindu temples, it boasts nine towering spires and embodies the timeless Bengali architectural style known as Navratna.
The temple's origin story adds intrigue to its splendor. Legend has it that a devout follower of Goddess Kali received divine guidance in a dream, compelling the construction of this magnificent temple. In response to the goddess's message, Rani Rashmoni, the devoted patron, changed her plans to visit Varanasi and instead embarked on the creation of this sacred sanctuary in Kolkata, the chosen location of Goddess Kali herself.
Location:

Belur, Howrah

Timings:

6 am to 12 pm; 4 pm to 9 pm
Shirdi Sai Baba Temple, Kolkata
Established in 1913, this temple filled a spiritual void in Kolkata, as there was no dedicated place of worship for Sai Baba at the time. Today, it stands as a serene haven for countless devotees who seek solace and connect with Sai Baba's teachings. Unlike grand and opulent temples, this one exudes an air of tranquility and peace, attracting visitors year-round seeking spiritual solace.
Location:

Sodepur

Timings:

8 am to 8 pm
Sri Bal Hanuman Mandir, Kolkata
He is known by many names, with Sankat Mochan being one of the most popular. Hanuman, an ardent devotee of Lord Ram, is prominently featured in scriptures and temples, often at the feet of Lord Ram. His unwavering devotion has earned him reverence across the country among Hindus.
If you share a belief in the power and strength of Lord Hanuman, consider visiting the largest Hanuman temple in Kolkata. Explore the temple and spend some moments sharing your challenges with Lord Hanuman, gaining the inner strength needed to overcome life's obstacles.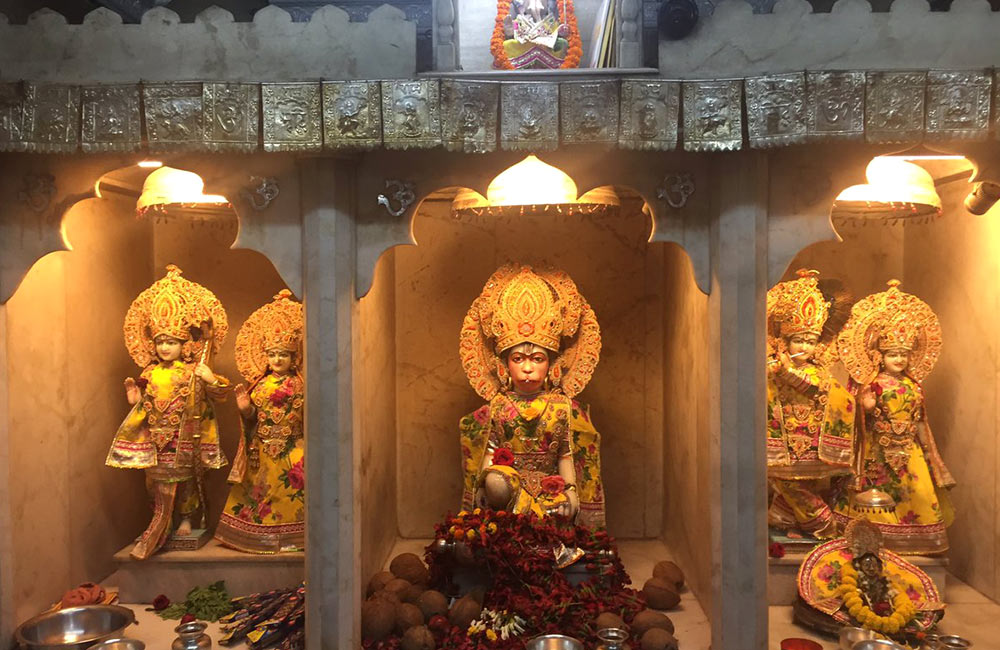 This temple attracts not only Hindus but also individuals from various religious backgrounds, making it a symbol of unity and spirituality for all.
Location:

Lake Town

Timings:

6 am to 8 pm
In memory of Lord Krishna, ISKCON temple, with branches nationwide, was established in Kolkata in 1970 to serve the devoted followers of Lord Krishna and his eternal companion, Radha.
Referred to as Sri Sri Radha Govinda Mandir, this temple shares the distinctive features of other ISKCON temples. Its interior is adorned with beautiful engravings of Bhagavad Gita quotations, and it houses a spacious hall for religious ceremonies and evening aartis dedicated to Lord Krishna.
For a captivating experience, visit the temple in the evening when it comes to life with illuminations, creating an unmissable spectacle.
Location:

Minto Park

Timings:

4:30 am to 1:30 pm; 4 pm to 8:30 pm